Zeng Zhaoman (also known as Xiao Man or Aman), is an artist and poet. Born
in Hunan province, China, in 1973, graduated from China's Central Academy of
Fine Arts' Oil Painting Department in 1997, and based in New York now.
Although proficient in tradition Chinese and Western paintings, Zeng Zhaoman is
focusing on creating contemporary arts.
"Painting to me is a kind of redemption. When facing brightness or darkness, I
need to stay vigilant and ready to react instantly, and give out A Man's voice.
(Coincidentally, my Chinese nickname is also pronounced "A Man")"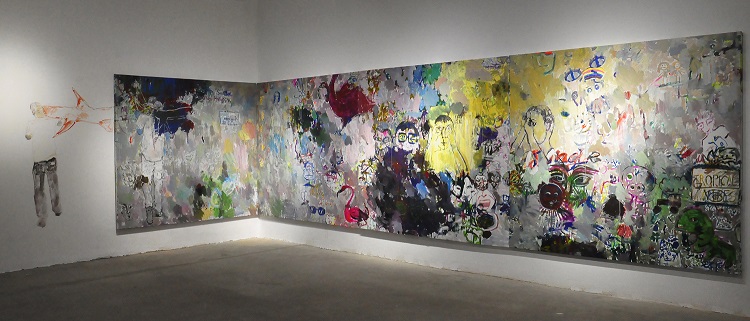 INFORMATIONS SUR L'ARTISTE-ACHETER UNE OEUVRE

(galeriearttrends@gmail.com)
Solo Exhibitions:
2019
Polyphonic Narrative/ ADGY International Cultural Center/ Beijing/ China
2017
The Eight Immortals Crossing the Sea: A Zeng Zhaoman's Solo Exhibition/ Mid-
Hudson Heritage Center/ New York/ U.S.A
2016
Listening: A Xiao Man's Solo Exhibition/ Hudson Art Center/ New York/ U.S.A
2015
Edge of Drifter: A Xiao Man's Solo Exhibition/ Chen Gallery/ Beijing/ China
2013
Spring in the quarry/ Saffron Restaurant/ Beijing/ China
Group Exhibitions:
2020
EARTHBOUND /Manhattan, New York/ U.S.A
2019
"Heterotopia – Platform", The U.S. – China College Art Summit/ Edwin W. Zoller
Gallery/ School of Visual Arts, Penn State/ Pennsylvania/ U.S.A
EXPORT——2019 A Joint Exhibition of International Artists/ Mid-Hudson
Heritage Center/ New York/ U.S.A
2018
SPECTRUM Miami ———Red Dot Miami
2018
Jeonnam International Sumuk Biennale for 2018 / Mokpo/ South Korea
2018
EXPORT——2018 A Joint Exhibition of International Artists/ Mid-Hudson
Heritage Center/ New York/ U.S.A
2017
We Are Here: A Group Show of Ten Chinese Artists/ Hudson Art Center/ New
York/ U.S.A
Today: A traveling exhibition/ Pusan South Korea
Art Beijing/National Agricultural Exhibition Center/ Beijing/ China
2016
Eastern Trip Perch Mountain: Refreshment of Eastern Ecology and Culture/
Wonju, South Korea
Group Show of Asian Artists of 2016/ Homeland Art Center/Beacon, New York/
U.S.A
2010
Young Contemporary Artists of Hunan Province Group Show/Sunshine
International Museum/ Beijing/ China
2008
A-SPACE Group Show/ A-Space/ Beijing/ China
2004
T.M.D: The Third Changsha Contemporary Art Group Show/ Changsha/ China
2002
Post- Experimental fusion: The Second Changsha Contemporary Art Group
Show/ Changsha/ China
1998
A Conversation Between landscape and Human Figure/ China's Central
Academy of Fine Arts'/Beijing/ China